Experience the best of the Peninsula
We are people that enjoy our traditional ways of living. We are saltwater people and we have learnt through our ancestors
how to care for and protect our land and our sea. We only hunt and gather from these sources during the right seasons.
We respect our flora and fauna, we are one with our land and animals, we are one with the sea and all that lives in it.
We invite you to experience Bardi and Jawi culture on an authentic Aboriginal cultural tour.
Hunters Creek Tagalong Tours
Brian Lee
---
Follow Brian on a fascinating journey to learn about local bush tucker, Aboriginal culture and his connection to country. Or spend the entire day with Brian on an adventure of your own design!
Book a Tour
Southern Cross at Lullumb Coastal Walk
Bolo Angus
---
Join Bardi – Jawi man Bolo Angus on an inspirational journey . Learn about Bardi Jawi culture and experience hunting and gathering techniques passed down through the generations. Walk through mangroves, paperbark forests, salt plains, creeks and drink from a sacred freshwater spring.
Book a Tour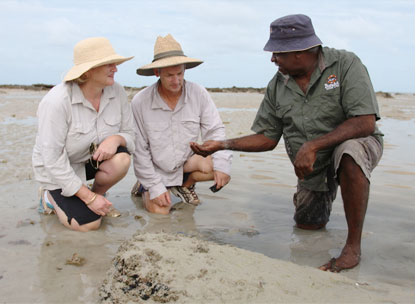 Bundys Cultural Tours
---
Bundy's Cultural Tours operate in Bardi Country, at the northern tip of the Dampier Peninsula. As a traditional owner, Bundy lives a contemporary but traditional Aboriginal lifestyle and his culture is very much a part of his life. His tours provide an opportunity to meet with him and his family.
Book a Tour